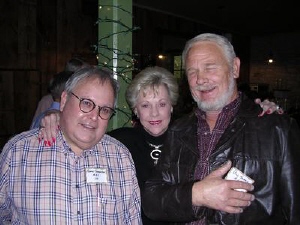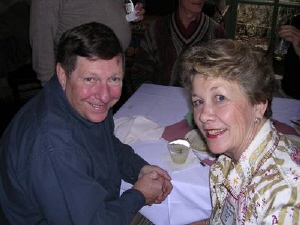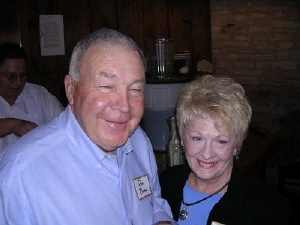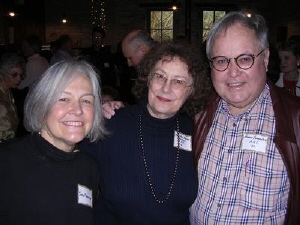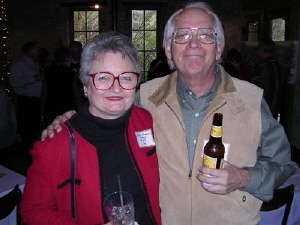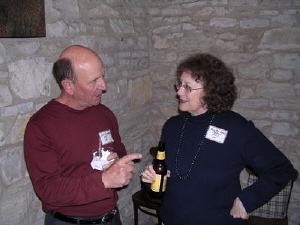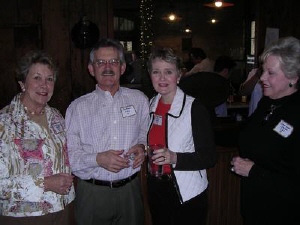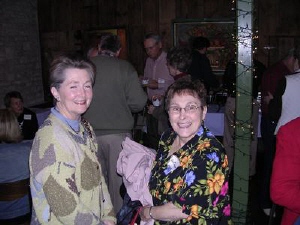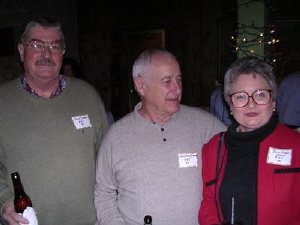 Austin Mini-Reunion

January 29, 2005

Photos Courtesy  Ted David, Larry Smallwo0d, Mart Tomlinson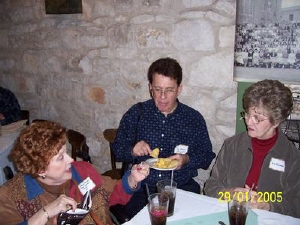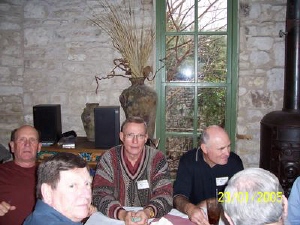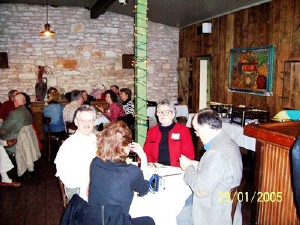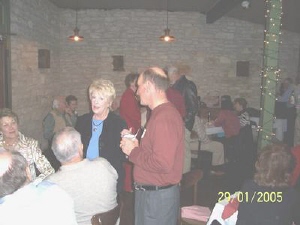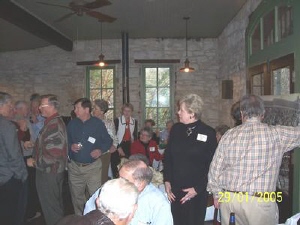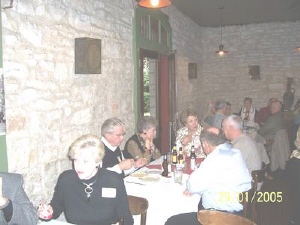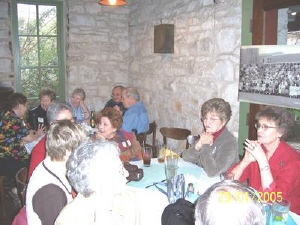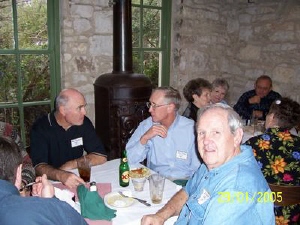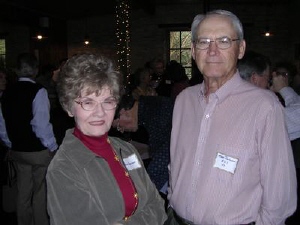 l-r Jeff Ingham,Dick Polson, Doug Thornton, Gwen Brunson, Sharon Eads,Betty Howell, Diane Dalton, Robert Forrester [bk]

Front Table: Clockwise: Gayle Purnell, Sharon Eads, Betty Askew, Shirley Price, Nita Tomlinson (Mart) Sylvia Findley

Clockwise: Diane Dalton, Jeff Ingham, Betty Ingham, Gwen Brunson, Soapy Sudbury, Donald Coonrod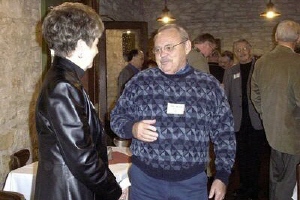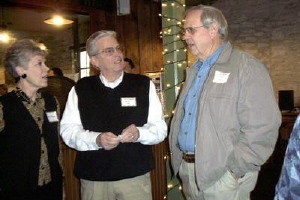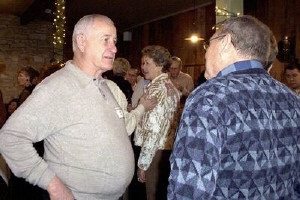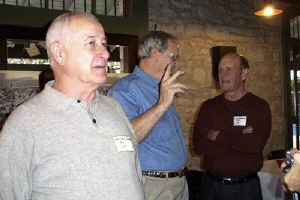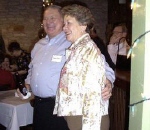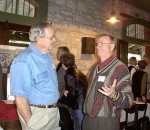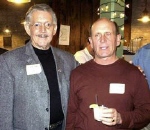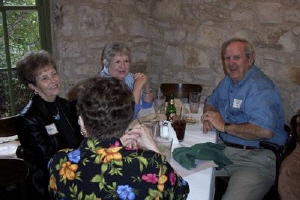 Mart, you and Ted had some good pictures.  The photos reflect a lot of character lines that have developed in our faces.  I'm going to learn how to get my pictures from camera to computer, some day. 

Have you noticed how many of us it takes to get all the correct facts together to make a story complete?    For instance, what the heck is going on with Mr. Kidd, he is jumping from school to school, in all of the year books.  Mary Lee, call him to find out what he was doing, was he a roving Art teacher?  Memories come to life again.

The discussion of the "The Ladies" (as always, I'm a little slow) was of interest, as my morning paper route was from 10th to 2nd on Buchanan, Lincoln, & Johnson.  Except for a few customers they always paid on time!!!  At age 10 - 13, what more could I have asked for??? Mart's answer was, "You always took cash?  Another item of a misspent youth."  What was the address of Rhonda's Room?

THE AUSTIN MINI REUNION:  Thanks again to Ted Davis, Louis Dubuque, Bobby Cotter, Doug Thornton and Mary Nell (Williams) Mathis for all their efforts, another job well done.  Also thanks to those who traveled the extra miles to be there.  For those who want to know the skulduggery....what can you do in 4 hours....when there is no room to become lost.  We tried to remember old stories, old lies, some lies were required to make old stories work, exaggerations/embellishments were tolerated because we didn't know the difference.  We were well fed and entertained with a recording made by Eddie Reeves.  A lot of time was spent looking at an enlargment of the group picture of the class of '58.  You could visibly identify everyone, putting a name with the face was another challenge.  Everyone was appropriately dressed, and socially correct.  The bar was used but not abused and everyone left HAPPY!!!

This is a full report of my recollections. Just remember I wasn't the Valedictorian of the class and never did well on essay tests.  Especially for Mary Lee, Sylvia, Ginger and others who expressed an interest in details, please contact Gwen (Brunson) Coonrod, Gail (Purnell) Dalton, Sylvia (Findley) Stovall, Eva Jo (Miller) Sudbury, Chestelle (Sing) Samford, Betty (Askew) Howell, Mary Nell (Willams) Mathis, Shirley (Price) Hughes, Sharon (Eads) Wiggins, and Diane (Dalton) Laros.

Good Luck!!!

Chris

Can you tell this was written by a man?  :-)  I just typed. k

Typed by Kay Cadenhead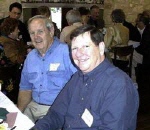 Steve Carter, Soapy Sudbury, Betty Askew

Sylvia Findley Stovall and Dick Stovall

Shirley Price Hughes, Tom Hughes, Nina Tomlinson

Clockwise: Doug Thornton, Louis Dubuque, Dick Polson, Chris Cadenhead, J W Witt ??

Back Row: Joe Howell, Betty Askew Howell

Front Row Chestelle Sing Stamford  w/ hubby Bob

Clockwise: Doug Thornton [head] Chris Cadenhead, Bobby Cotter, J W Witt

L-r Yvie Witt [J W 's Spouse,] Larry Smallwood

l-r Robert Forester, Diane Dalton, Bill Harris

l-r Doug Thornton, Gwen Brunson Coonrod

Carole Forester, Nell Williams Mathis, Robert Forester

Ann Dodson Brown w/hubby Don

Betty Askew, Phil Mathis '57

Louis Dubuque, Nell Williams Mathis

l-r Gwen Brunson, Joe Howell, Sharon Eads Diane Dalton

l-r Kay Mullins Davis [Ted] Kay Cadenhead [Chris]

l-r Gwen Brunson, Ann Dodson, Louis Dubuque

Clockwise: Kay Cadenhead [Back] Yvie Witt, Lanette Smallwood [Larry] J W Witt

Soapy Sudbury, J W Witt, Louis Dubuque

the Scoop from Austin

By

Chris Cadenhead

Soapy Sudbury, J W Witt, Louis Dubuque

Soapy Sudbury, J W Witt, Louis Dubuque

Dick Stovall  Louis Dubuque     J W Witt, Doug Thornton

J W Witt Doug Thornton  Gwen Brunson Coonrod-hubby Don