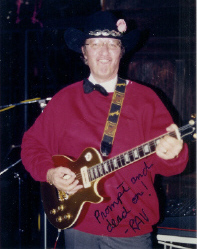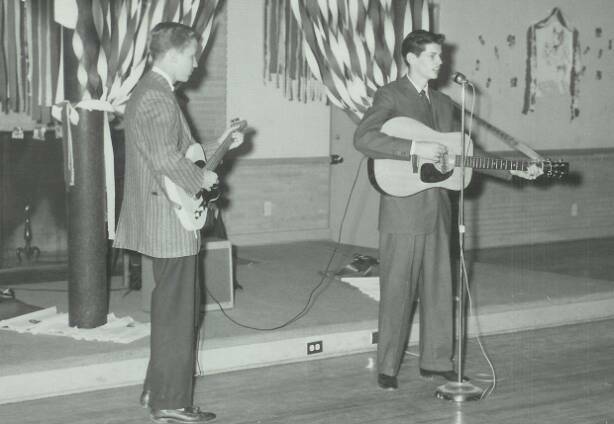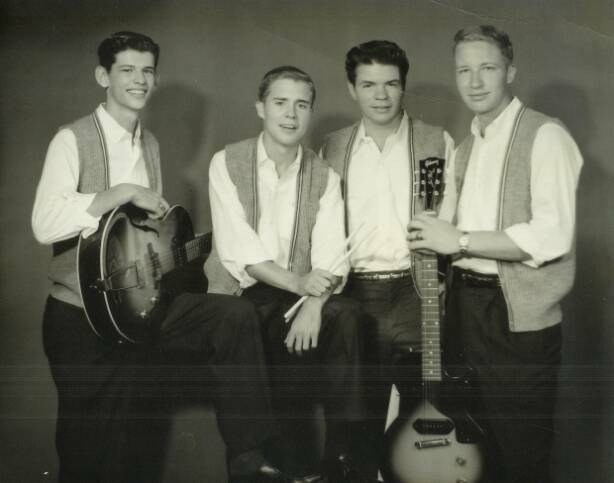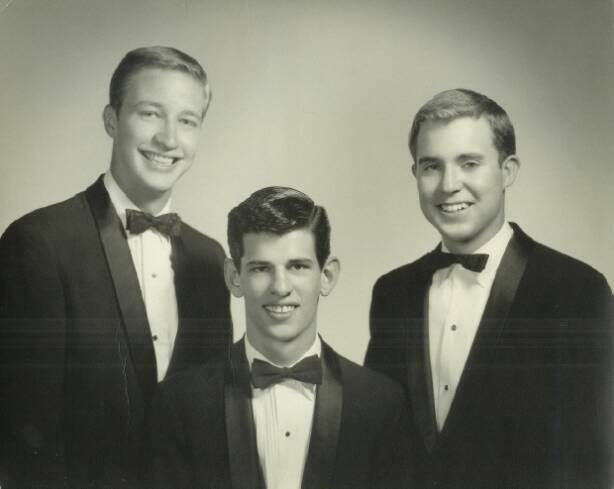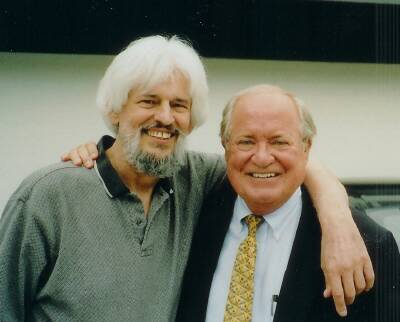 Eddie Reeves - April 2005

"....Billy Sansing decided to no longer be part of our original band, The Combo Kings, and Bob and I knew about Gary Swafford's ability as a drummer.  We went to his house and met with him and his parents and tried to recruit him as our drummer.  We were in the process of buying larger amplifiers and we needed a drummer with a full set of drums and Gary's caliber of ability for us to start playing dances instead of the 3 or 4 song floor shows we had been doing as the Combo Kings.  Gary was already in a band that he didn't want to leave but he told us about a kid that had just moved to Amarillo from Kansas City.  He said this kid was a great drummer and had sat in with the great jazz bands in Kansas City since he was 10 or 11 years old but that he had never played rock and roll-only jazz.  So we looked this kid up and Mike Hinton became the drummer for the Nighthawks. 

At that time, which was the summer of 1957 just before our senior year, we had decided to call ourselves the Ravens which came from the song "Rave On" that we had adopted as our signature song.  We would start and end each dance with it.  But when we went to Norman Petty's Studio in Clovis to record in the spring of 1958, Norman told us there was already a band called the Ravens so Bob came up with the name the Nighthawks.  There's another band named the Nighthawks that had a lot of success in the 70's or the 80's but we were the original Nighthawks.  And at the time we had no way of knowing the Air Force would eventually name a stealth bomber after our band!

Accent West July 1983

"They made up the first Rock 'n Roll band in Amarillo, and they are about to have an encore revival to play for the 25-year reunion of the Amarillo High School graduating class of 1958.

".... Back in those days when band names like everything else were simpler they called themselves from one time to another the Combo Kings, the Ravens, the Hysterical Society Boys and the Nighthawks. They were in various combinations: Eddie Reeves, AHS '58... Bob Venable ... AHS '58; Mike Hinton...  AHS '59 ...John Thompson, PHS '58...,  Jim Sandlin AHS '57... Bill Sansing...AHS'57. The group recorded four songs at a local studio [KFDA Radio] that year. Sandlin sang "Jim Dandy" and Reeves sang Carl Perkins' "Gone, Gone, Gone," and a little later Ann Roberts on piano was added to the band and Reeves, backed up on vocals by Sylvia Ramsey, Gracey Newman and Sybil Todd, sang "Pretty Babe." written by Reeves, and "When Your Baby's Gone" written by Venable ...

"....When Sandlin and Sansing graduated, Reeves and Venable picked up Hinton on the drums and Thompson on stand up bass and they became the Ravens. That year the band outgrew the floorshows and became a genuine dance band for school functions, the YMCA Drift Inn and self-promoted dances at such places as the National Guard Armory."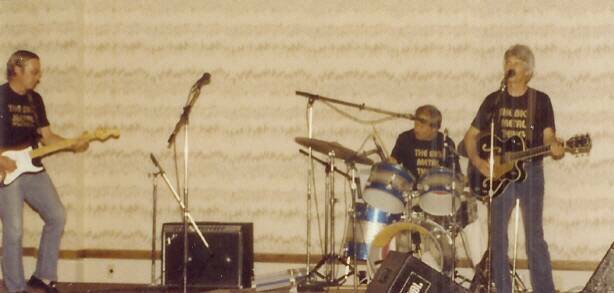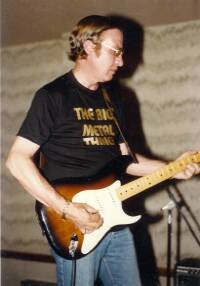 Accent West  July 1983

"...'Sometime in the summer after Bob and I graduated from high school,' Reeves said,   'he and Mike, and I pledged to get back together and play our music at some set time in the future. We talked it over and decided to really test ourselves and have a reunion, when we got good and old, say around 40. So we just said, all right, twenty years from this summer.'       

"...That was 1958, so in the summer of 1978, the Nighthawks got together in Amarillo to play their old numbers. Traditionally, high school graduating classes hold reunions after 10, 25, and 50 years, but coincidentally with the band's reunion – some say because of it – the AHS Class of 1958 organized a reunion and joined them. Reeves, Venable and Hinton imported Al Staehely, an old University of Texas fella' Delt who had since made it big  as a bass player with name bands and as a studio musician, to play the reunion with them. It got the best reviews of any Amarillo class reunion in memory, so the Nighthawks happily agreed to be a part of the AHS Class of 58's 25-year reunion.

"...'This may be our dwindling public's last shot at us,' Reeves said. 'Of course, if we really click we may talk about shucking everything else and going on the road, or at least measuring our way into old age with an annual performance. But for now we're practicing as if this will be our last gig before packin' 'em up and finally admitting that we are, when all is said and done, has-beens. That is, granted we had been in the first place. It's sometimes hard to be sure, looking back, but, I know this:  It Sure Was Fun. ' "

                                 Bob  Venable                                                 Eddie Reeves

                Eddie Reeves     Mike Hinton       John Thompson     Bob Venable

                          Bob Venable           Eddie Reeves          Mike Hinton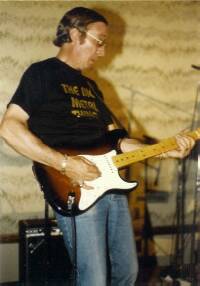 Eddie Reeves -April 2005

"...Bob once told me that the great thing about not being very good at something when you are young means that you will be just as good at it when you are old.  He explained that he was happy that he could never play Scott Joplin piano pieces very well when he was young because this meant that he could now (in his 50's) play them as well as ever!  Actually, he played these pieces superbly."



Eddie,

Each of us, along with other schoolmates, want

to thank You, Mike, and the Nighthhawks

for the making of so many memories

for us in high school and allowing us

to relive these wonderful moments

by sharing your memories with us.

                   the AHS Class of 1958

                                         June 2005

THE  HYSTERICAL SOCIETY BOYS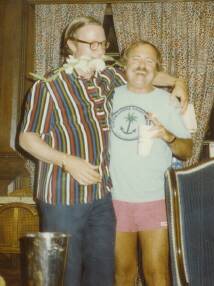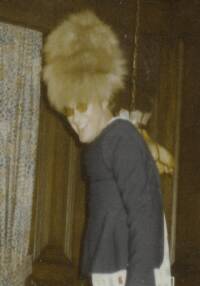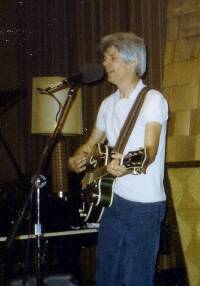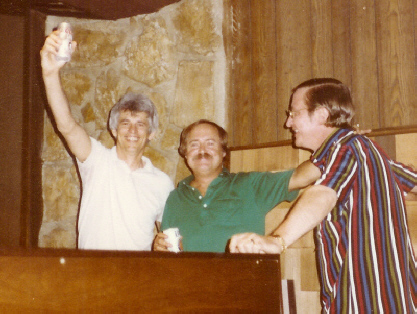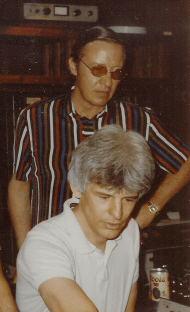 THE NIGHTHAWKS

by

Buck Ramsey

copyrighted

Used with Permission of Bette Cave Ramsey

I don't know Waylon Jennings.  And he sure doesn't know me.  But I like his music all right and he comes across as a pretty good old boy.  And his being from Lubbock and my being from Amarillo have nothing to do with what I am about to write.  I am not trying to make Waylon mad or embarrass him by dredging up something in his past he would obviously wish left buried.  I just can't figure out how, in this case, to go easy on him and keep my facts straight. 

I do know Eddie Reeves.  I'd know his ashes in a whirlwind.  And I like Eddie's music and he is a pretty good old boy and happens to be from Amarillo.  But all that has nothing to do with his getting the clear advantage in this expose of rock 'n roll lore going back a quarter of a century. 

Here is the matter in a nutshell:  when Waylon was a disc jockey in Lubbock and a friend of Buddy Holly, Eddie was under contract with Norman Petty over in Clovis, Holly's producer at the time, and it came about that both Waylon's and Eddie's first professional recordings were made in the same studio of the same song, and anyone listening to those two recordings with something more than bottle caps for eardrums would have from that dangerous side of prophecy put all their money on Eddie.  I know I did. 

This was back in the summer of '58.  Reeves and Bob Venable, fresh graduates of Amarillo High School, and underclassman Mike Hinton were the keepers out of a culling process that brought about the Nighthawks, one of the first rock 'n roll bands in Amarillo.  The group's genesis dated from over two years earlier when Reeves and Venable quit the AHS Golden Sandstorm basketball team for the likelier glory of rock 'n roll.  Particularly in Reeves' case the Louisiana Hayride out of Shreveport inspired moves fit for another arena and made his hair too long for the school team.  The group in various combinations and under different names – the progression from Combo Kings to Nighthawks showed early a sensibility to rock-sophisticated band monikers that would stay with them to the end – played mostly floorshows till Mike got big enough to play drums with them, then it became the town band for high school dances.  The group in one early stage even made a cocky gesture at fame with a couple of recordings in a local radio station, but it did not hasten to them. 

From the beginning, Reeves, lead singer and rhythm guitarist, had the singing and moves and haircut down pat, though his smile was way too big and happy to keep the girls throbbing at the right depths; Venable, the intellectual and lead guitarist, had his riffs smartly down fast and soon warmed to the spirit of the music, though he usually looked as if he were studying for a physics quiz even as he played; and Hinton, boyish, bouncy, grinning, was so irrepressibly and thoroughly a drummer that it was almost too much for such a band and the little amplifiers of those days. 

They were good enough for Petty to sign out of high school.  The plan was for their first single to be "When Sin Stops," a bang-up number Venable wrote.  It was – is – a Jim-dandy rock 'n roll record. 

The Roses, who sang backup on Buddy Holly recordings, did the [background] vocals on the record and the next time they saw Holly they raved about the song.  When Holly heard it he told Petty he wanted to record it as a single.  Since the Nighthawks had paid Petty $250 for his recording services and a promised attempt to obtain a recording contract for the band, Petty felt obliged to call Reeves for permission for Holly to record the song.  Reeves explained that Venable wrote the song and soon enough Reeves was explaining all this to Venable.  Reeves gave Holly's request his blessing and let Bob know that such a move could be of benefit to the Nighthawks.  There was silence on the phone for a few seconds and at that point some rock 'n roll history was not made.  With dead serious confidence, Venable replied that Holly could not record his song, that the song belonged to the Nighthawks, that Holly would have to find another song and that Petty should try to get the band a recording contract.  Reeves couldn't believe what he was hearing – that Buddy Holly, the great rock 'n roll star, was being turned down by the Nighthawks' lead guitarist.  Petty did land a recording contract with Hamilton Records, a subsidiary of Dot Records, and the Nighthawks' first and only record was released in August 1958. 

Holly learned the Nighthawks record would soon be released and knew no permission would then be needed to record "When Sin Stops."  He had been promising a Lubbock, Texas disc jockey friend a recording session in Clovis and it  would become the historic first recording session for Waylon Jennings.  To say that competition was fair would be more than right.  Not even Holly's gesture of flying King Curtis down from New York to play saxophone added enough to bring that recording close to on par with the Nighthawks'.  Win some, lose some. 

So this is the story of how three kids from out in the American hinterland bopped into the Sputnik era, of how they became heroes in a place and time when they were very young and of how they brought the place back when they were a good bit older and became heroes again.  It is the story of how three friends held on to youth with joy, of how one night they shared it with anyone who would have a part of it, and how they agreed to let it go on that night with grace.  This is the story of the Nighthawks and of how they decided to get together after many years apart and play their music one last time on the occasion of the 25-year reunion of the Amarillo High School class of '58, the people they had played for most in the beginning. 

"When Sin Stops" came out after Bob and I went to the University.  We steeled ourselves with modesty against all the applause and attention we would get as rock 'n roll stars on campus," Reeves remembered, "but it didn't happen." 

It was number one in Amarillo for five or six weeks, however, and to have been in ones teens there in those days is to hear the song (as well as other Reeves / Venable numbers) with the same nostalgia that "Johnny B. Goode" brings. 

"Rave On" had been the Nighthawks opening and closing number at dances, the other Buddy Holly recordings were staples in their repertoire and Reeves' singing style showed the Holly influence, but they remember feeling no more at becoming stable mates with Holly than the frisky curiosity of colts thrown in with a saddle horse. 

That was still the summer of '58.  This loose but cherished connection with Holly continued up to the second of the next February.  On that evening while Holly and others were playing a concert in Iowa the Nighthawks were in Clovis recording.  They might have been recording there in Holly's studio as Holly, the Big Bopper, and Richie Valens and their pilot crashed in the Iowa countryside.  Waylon Jennings, it is said, was supposed to have been on the plane, but the Big Bopper was coming down with the flu and Waylon let him take his place.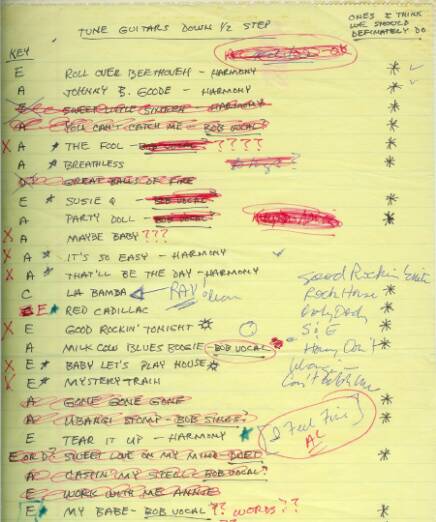 A rehearsal was called in Dallas five weeks before the final concert.  It also turned into something of an audition and jockeying time for those who would be roadies and groupies to sustain the band till it played its last and stay hooked through the wake.  Sometime during the revelry of that weekend an auditioneer raise her hand to hush the crowd and announced, "I've got to get off by myself for awhile and do something with this big mental thing I've got."  Someone thought she said "big metal thing," which inspired many puns and entendres, and t-shirts were ordered which fixed the band in its last days with a name to fit the times, "The Big Metal Thing." 

A vital member, Marc Jaco, an excellent young bass player from Dallas, was added to the band.  (He told me after the experience was behind him that his job interview reminded him of the famous Coyle & Sharp interview, "The Pit," where they tell the job seeker on the streets of San Francisco "there are certain risks involved."  He says that's fine, and as they keep on raising the ante, telling him it involves intense flame, people throwing objects, you have to get out of the flames, the 98 percent death rate on the job, he says, "I like to take chances."  They tell him maniacs in fireproof suits will try to keep him from his tasks and snakes will curl around him, and he says, "Yeah.  I'd like to try it."  Jaco said his interview pretty well harbingered the job). 

Remarkably, considering everything else going on during the Dallas rehearsal, the group did a single-take run-through of their repertoire in a studio and laid a foundation, which, with a few [background vocal] overdubs and some remixing, would make an excellent cassette recording.  (The taping was completed during a flurry of a trip to Dallas the weekend before the reunion.  Most of the overdubbing was done by Reeves and Venable – all but some, uh, pretty fair ooby-do kind of backup vocals by a friend there thinking of writing a story about all this.  The tape was judged good enough to offer on sale at the reunion to defray some studio expense; it is, in fact, good enough for anyone's rock and roll library). 

Reeves, though he's roan-headed now, is still very youthful.  He sang his heart out for the recording and dubbing sessions, and it never occurred to anyone, least of all him, that his vocal chords wouldn't hold up as well as Venable's guitar strings through those late, long tapings and the big weekend.  But he came up hoarse following the last strenuous session in Dallas and stayed glum and silent through the week.  His wife nursed and coddled him, some prayed, some wrung their hands. 

Venable rented the Presidential Suite at the Hinton Inn where the reunion was to be held, and a slow coming together began Friday morning, continued through the day and came with a rush that night.  While the class reunion was scheduled for Saturday night, many hometown fans of the Nighthawks had come through school on either side of the class of '58 and the band would accommodate them with a Friday night concert and dance.  Reeves spoke enough to say he could sing, which he did to the peril of the final concert. 

Saturday afternoon there was a class reunion picnic in the park under the blazing sun.  Backing off and looking on, the impression was one of spans and spectrums:  colors (cloths, not skins – this was the class of '58 in Amarillo), styles, distances, talk, emotions.  Even guesses on ages would have a 20-year spread.  Class reunions are nothing like a convention of gaudy hawkers or clubsters decked out in hip bourgeoisie, they are heterogeneous as a generation. 

Reeves was not there.  He was in bed and could not talk.  The rest of the band skipped the picnic, too, but because there was a general looking forward to the night and because there was about as much talk of Reeves' condition as anything else, the band's presence was felt.  It was as if they were playing a little background music to all those strange and lovely feelings flowing at flood stage.  Some with looks or words attempted fixing others with a certain feeling or memory, trying to raise up old, dead moments.  There was surprise that an old rivalry had become a bond of affection as strong as the affection that has caused the rivalry.  There were meetings of sincere and open delight and some of cloaked displeasure.  And all around, in more than would confess it, the sexuality of nostalgia aroused itself, perhaps to attend some old unfinished business.  (Even if we would be moralists we were there, for moments at least, voluptuaries, regretting not the ones we did but the ones we didn't – I write as sexist as my memory and gender inform me.  Are there any moments more heightened in memory, was there ever anything so tentative and restless as the thought, the will, the hand upon the soft legs bare above the cuffed bobby socks, legs pressing slightly against the wishes beneath the rude crinoline?)

The class of '58 began picking up their nametags around seven that evening.  One guy had a greeter change the name on his tag before pinning it on, explaining that he had been told he was plenty schizophrenic all right but that he had had 346 shock treatments and was told he wasn't dangerous. 

About this time Reeves, whose voice had not made a sound all day, managed to convey an order through a groupie for a giant hot toddy to be sent to the Presidential Suite.  The others had grown almost as quiet as Reeves out of apprehension.  Even Hinton's frenetic sociability had turned to almost funereal deportment.  The toddy had little chance to cool before Reeves downed it, then he washed some Allerests down with beer after beer and sucked on Sucrets.  He sat on the couch with his guitar on his folded legs, strummed an E chord and opened his mouth for "Roll Over Beethoven" to come out, but nothing happened.  First, the looks, then the aimless movement of panic filled the room.  A groupie, or roadie (the pecking order had never been quite worked out), ran to the party to see how far along the program was. 

Reeves downed more medicine and took on about him the look of a plan.  He went to the bathroom, stood on the commode, turned his face to the ceiling where the heat lamp would glow upon his throat and began making noises. 

The roadie came back to report.  "They are giving out all those awards," she said.  "The guy who had the youngest baby, before he married the woman who is the baby's mother, was married 16 years to the woman handing out the awards, and the crowd wouldn't let him go back to his seat until they hugged and kissed.  The guy who got the award for being the least changed, which, I take it, means he's the most youthful-looking, made a short acceptance speech.  He had apparently been a real awkward head-scratching overgrown crew cut jock when he was in high school but now looks like the type who beachbums in the summer and skibums in the winter.  Anyway, he said, "Thanks, I guess.  You can figure out how much I appreciate this award when I say I have been working to change my image for 25 years and now you tell me I haven't changed a goddam bit." 

A sound, not quite a note, came from the bathroom, and everyone gathered at the bathroom door to watch Reeves up there at his vocal warm-ups.  He had begun on sighs, passed through croaks and now was softly yodeling.  He had maybe another fifteen or twenty minutes before show time to do his therapy. 

Someone said it was time for the band.  Reeves came down off the commode, gave Venable the label off the Allerest and an empty beer can and said, "Bob, if I conk out in there, take these and my body to the hospital and they will know what to do." 

They strummed and thumped their moment of preparation and Reeves tapped his microphone and said in a quiet voice, "Ladies and Gentlemen, because I am not as young as I thought I was my voice is not as it should be for this great occasion, so while the band plays I am going to whistle all the songs." 

The crowd was hushed, then it groaned.  Hinton said, "Well, anyway, Ladies and Gentlemen … IT'S THE NIGHTHAWKS – ROCKIN' AND A ROLLIN'!"  And when Reeves came out sizzling and bellering with "Rave On," I can tell you I wouldn't have traded being there for two red blankets. 

It was rock 'n roll straight out of that pristine time when white boys were still trying to learn the licks of black men, giving the sensual rifts a kind of cherubic edge and dealing with despair on the level of not getting the family car for a date.  They were wondrous and necessary and maybe eternal, but those hard-earned, deeply felt lumps in the black music had to be for a while smoothed out to make the music right for sifting into the consciousness of the folks buying.  And right there on stage was music about as siftable for times as you would hear. 

Reeves' voice held up, less than it was supposed to be only to those few who knew how good it had been through the tapings, and Jaco kept the foundation solid with his bass – after all, these two were musicians still in the trade.  So the whole was to be done or undone by the lead guitar and drums.  Some lifting's from a fan's notes: 

"…For this time warp tonight Bob is as right for the ear as a '55 Chevy would be for the eye.  He picks and frets his way to the right place on the anxious edge of late and looking, each chord and note in his lead breaks arriving like the almost too equivocal groom at the instant to allow the wedding without a hitch…" 

"…Was that drum flourish of Mike's random as hailstones on a roof or was it just what he meant?  Sometimes the spirit should take hold like a holy-roller woman with the holy ghost.  He does move the song and fill it up.  Mike can come off addled as Ensign Pulver, yet he is a clever and deliberate courtroom tactician much admired.  During the second break Bob came over, cool cucumber pickled on the music, and said, 'If you have Mike you don't need much more to have a rock and roll band.'" 

The Nighthawks' fame remained fairly well closeted in Amarillo and on the University of Texas campus where they became authentic legends, mostly with the Reeves / Venable "Delt Party Song" (Delta Tau Delta, it's a party shelter, Delta Tau Delta, that's where I felt her…"  Reeves said he was in Austin a few years ago [1979] managing a rock group on tour and on a visit to the fraternity house was treated to a Delt pledge's singing of the song just as they had written it).  One college summer in Amarillo they became the Hysterical Society Boys, the court musicians for a lyrical bunch of revelers gathered close about Stanley Marsh III.  Under that society's imprimatur the band recorded "I Go Shot Right Out Of The Saddle" and "Funny Face," both by Reeves. 

After college Reeves worked away from music as long as he could, then in 1964 took a job as Norman Petty's man in New York.  Nine months later he went to United Artists Music Publishing [United Artists Motion Pictures] and three years after that opened the company's West Coast office, which he ran for four years.  He had a big year in 1971 and cut loose on his own for a while.  That year Ray Charles recorded "Don't Change On Me," which Reeves wrote with Jimmy Holiday; Cymarron recorded "Rings," which he wrote with Alex Harvey; and Sonny and Cher, launched on a TV hit show, recorded "All I Ever Need Is You," which he wrote with Holiday.  All climbed high on the charts, and the latter would become a hit again sung by Kenny Rogers and Dottie West.  Reeves in 1972 signed an artist and writing contract with ABC Records, which cut an album by him that more or less came up a deuce after a shuffle.  Two years later he became Vice President and General Manager of the West Coast office of Chappell Music and stayed there three and a half years before starting his own publishing company where he managed, among others, Kim Carnes.  In 1981, Reeves, keeping a hand in the music business and a handle on sanity for himself, his wife Randy and his two children by another marriage, moved back to Amarillo to settle into a kind of normal business routine. 

As for Venable, only in the broadest sense that everything in our lives affects everything else could it be said he somehow parlayed Waylon Jennings' recording of his song into his place among the big boys in the oil trade with headquarters in Dallas and homes in Highland Park and Northern Italy.  He graduated from the University of Texas and its law school with honors and then worked as a lawyer for Clint Murchison before becoming fulltime executor for the estate of his uncle, Buzz Venable, a legendary gambler of old who parlayed poker winnings into a fortune in the East Texas oil fields.  Venable years ago gave away his electric guitar [Fender Telecaster] to some Beatle-struck kid. 

Hinton followed Venable through the University law school and came back to Amarillo and Canyon to practice law as a prosecutor for three years before in 1970 becoming an ace crime fighter for Harris County District Attorney Carol Vance.  He is now a hotshot criminal defense and plaintiff's lawyer in Houston.  He almost never sat down to the drums over the years, but he routinely taps, stomps, thumps and bounces in time enough to keep any stick-less drummer in shape. 

Reeves had remained musical over the years so getting his parts smoothed out and the other parts taped and sent out for the others to practice by were easy enough tasks.  And Hinton has always seemed to breakfast and lunch on whatever jitter pills it is drummers take that make them walk and talk to the beat of their drums, however distant, so he is nearly always ready to sit down among his set, change the look on his face a little and start rockin' and rollin'.  But Venable was another matter all together. 

Any former lead guitar player will tell you that skill is not something, like milking cows or riding bicycles, you lay aside for twenty years and pick back up with ease.  From the moment, polished and quietly elegant, middle-aged with a slightly eccentric air, he walked in the instrument store and ordered a 1957 Fender Stratocaster to play in a '50's kind of rock 'n roll band, Venable had to coax the staid businessman in him to accept the rivalry of a much younger foster sibling. 

"At first I felt pretty awkward when I was caught by my secretary or a business friend practicing away at my guitar, but pretty soon I just began telling anyone who seemed curious that while others might use drink, dope, hi-jinx, divorce or shrinks to get by, I was starting a rock 'n roll band." 

As time before the reunion dwindled down to a few months, Reeves, who was more or less central coordinator for the band, began getting letters and calls from Dallas and Italy with Venable on the other end in moods blue to beaming about his rehabilitation as a rock 'n roll guitar player and the coming of the last hurrah.  Excerpts from a typical communiqué, this one from the Casa Della Duse in Asolo, north of Venice:  "Nobody else will notice or care but you will die when you hear the guitar backup that I have learned for you -particularly the Chuck Berry stuff.  I have a friend over here named Reginato Fabrizio who builds guitars and other instruments and who is an excellent flamenco guitar player and who is crazy.  I can always go over to Fabrizio's house after midnight because I know that he has just gotten up and is starting to work and that there will be plenty of wine.  Anyhow, he said, 'Robert, goddamit, you've got to be prompt and dead on with the first note and the last one.  Nobody listens to the rest of the crap.'  So with that sort of advice I am plugging along … Reginato also said that it is a good thing I still have two months to work…"

Sometimes before a letter arrived Venable would call with the same report contained in the letter and add postscripts.  "You listen," he would say, "while I lay down the phone and put on Elvis singing 'Baby, Let's Play House.'  I'll play along with it and if all you can hear on the guitar breaks is Scotty Moore that means I'm playing exactly what he's playing.  If you can't hear me that means I'm getting there, Edward."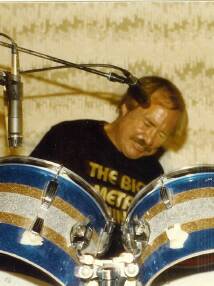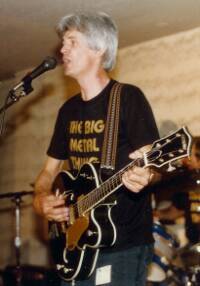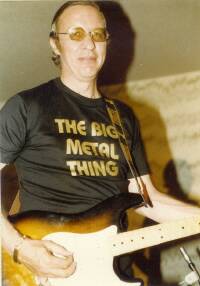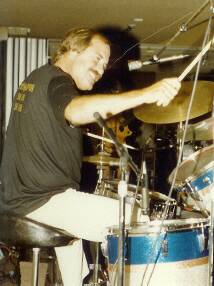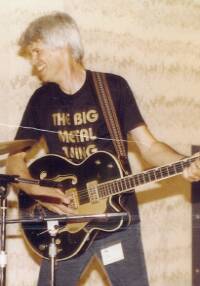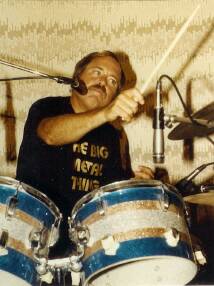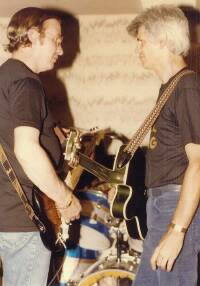 Bob Venable - 1995

1940 - 1996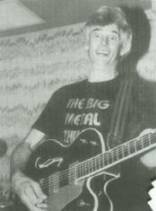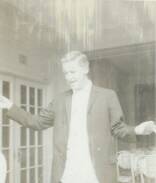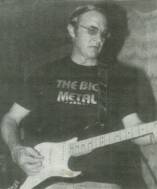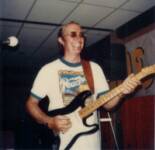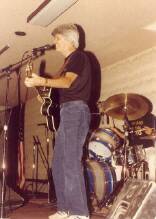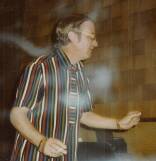 the AHS Class of 1958  25th Reunion  July 1983

Recording  -  Rehearsing  -  Havin' Fun

Saturday    July  2, 1983

Eddie's

Buddy Holly Encounters

The Nighthawks made several trips to the Norman Petty Studio in association with their recording venture in 1958.  Bob and Eddie traveled there in early spring 1958 to play Norman Petty two songs, "When Your Baby's Gone" by Venable and "Pretty Babe" by Reeves.  It was Petty's opinion that the songs were not strong enough to give the Nighthawks a good chance for a recording contract with a major record company.  Bob and Eddie returned to the drawing board and soon made another trip to Clovis to play "When Sin Stops" by Venable and "All'a Your Love" by Reeves.  Petty thought these songs had a chance and agreed to record the band.  On two of these trips, Eddie waited in the recording studio reception room until Petty was available while others in the group waited in the car.  The reception room had two doors – one leading to the small recording studio and the other leading to the studio control room. 

On one occasion when Eddie was waiting for Petty, he stood in the doorway between the reception room and the control room viewing with wonder, all the electronic recording equipment in the control room.  There was a large double paned window in the control room, which gave a clear view of most of the recording studio.  Eddie explained:  "As I stood there Jerry Allison the Crickets drummer and co-writer of "Peggy Sue" and other Holly songs, Joe Maudlin the bass player for the Crickets and Buddy Holly entered the recording studio from a doorway which lead to an apartment where Buddy and the Crickets and other recording artists stayed during recording sessions that lasted for several nights.  At first I didn't realize the seemingly small, curly-headed guy in a white t-shirt and jeans was the star Buddy Holly.  Holly walked toward the window of the control room and sat down on the studio organ's Leslie speaker box.  Jerry Allison was trying to pay a bet he evidently had lost to Holly.  The reception room door leading to the recording studio was open which allowed me to clearly hear their conversation.  Jerry had a hundred dollar bill in his hand and was offering the money to Holly but Holly would say,

'Keep the money Jerry.  I was just a-foolin' ya'.  Go on keep the money, I was just a-foolin'."  Jerry continued to insist that Holly take the money but Holly continued to refuse it.  I don't think they knew anyone was in the reception room.  Soon they returned to the back apartment and finally, Norman Petty was available.  I later learned that after Holly started making a lot of money he would usually carry a thousand dollar bill in his billfold and offer it for payment for any small purchase such as a newspaper, magazine, cigarettes, etc.  I was told he loved seeing people's reaction to a thousand dollar bill. 

On another occasion Eddie was in the studio reception room waiting to see Petty, Buddy Holly came into the studio and sat down on the piano bench of the nine-foot Baldwin grand piano.  Reeves said, "At first I thought he looked a little bit too ordinary to hold up under all that heavy hero worship.  His hair was curling down in front and he looked like some country hick dressed in a plain white t-shirt and faded Levis.  I wondered how Buddy Holly could be so huge in my mind and seem so small in person.  The door between the reception room and the studio was open about a foot and Holly didn't know I was there.  He started playing the piano introduction from the Little Richard hit "Slippin' and Slidin'" by playing the single root bass note for each chord with his left index finger and the chords with three fingers of his right hand.  After the fairly long piano intro he began to sing – 'Slippin' and a slidin', peepin' and a hidin', been told a long time ago…'  The grand piano with its lid propped wide open was really loud in this small recording studio but when Holly started to sing I swear his voice came out above the piano like a siren over loud traffic.  It was the loudest singing voice I had ever heard.  In that moment it made all the sense in the world to me that the little guy in there was a rock 'n roll star and I wasn't." 

Mike's

Buddy Holly Encounter

"God what a great time we had and are still having with The Nighthawks.  Was doing that in Clovis fun or what?  I had never seen a guy with blue sunglasses before--let alone wearing them in a restaurant at night!!!  And it was really hot outside, remember, and Buddy Holly was wearing a turtleneck sweater?? 'Whoa, I was really freaked!! '" 

When Sin Stops

Words and music

by Bob Venable


well my fever gets high

about a hundred and four

every time that you

come through my door

you thrill me honey

you fill me with desire

don't stop rollin' those eyes

don't stop tellin' those lies

it's not right I know it's a sin,

when sin stops love begins

well I love you honey

in the day and the night

I love you when things

are wrong or right

I love you honey

I need you all the time

your lips are so good for me

your lips are all I see

it's not right I know it's a sin

when sin stops love begins

don't stop, don't stop

don't stop, yeah….

well open the door

and walk right in

where we left off

that's where we begin

umm honey that's what

I've been waiting for

umm honey that's

what I needed

oh mercy, I begged and pleaded

it's not right I know it's a sin

when sin stops love begins.

Copyright:  1958

Nor Va Jak Music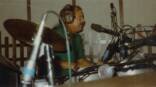 Eddie Reeves:

When recording at the Petty Studios, Norman  would have us arrive about 6 p.m. We would wait about an hour or so, finally Petty would tell us to setup and warm up.. his secretary would appear and tell us to get a bite to eat... About 10 or 11 p.m. we would finally begin to record until about 9-10 a.m. next morning and then drive back to Amarillo...

Eddie's

Encounters with

Waylon Jennings

Waylon Jennings, a disc jockey in Lubbock, TX recorded "When Sin Stops" in the Petty Studios, Buddy Holly was the producer. Buddy had kept "When Sin Stops"in his memory as a great song. This was  Waylon's first recording. 

In the 1980s, Eddie  ran across the up and coming Waylon in a hangout called the Black Poodle in Nashville. After being introduced, Eddie mention that the two of them had something in comon. That each of their first recordings was "When Sin Stops".Wayland gave Eddie a blank stare, then walk off.

A few years later Eddie again ran across Waylon at a Hollywood hang out. Waylon, by that time, was becoming a country legend. Eddie was introduced then mentioned the episode at the Black Poodle, and asked why he had walked away.

Waylon responded, That the recording of  "When Sin Stops" was his first  record and he was hoping no one could remember it. When Eddie had mentioned the record, all he could think to do was get away from That Guy.

The Nighthawks earned about $10 total for a Drift Inn dance, which didn't even cover the cost of guitar strings,  to a record high amount of $100 at a self promoted dance.

The Nighthawks had to love to play and sing their unique music, because they were not becoming rich in doing so.... 

   Eddie Reeves        Mike Hinton

                  2004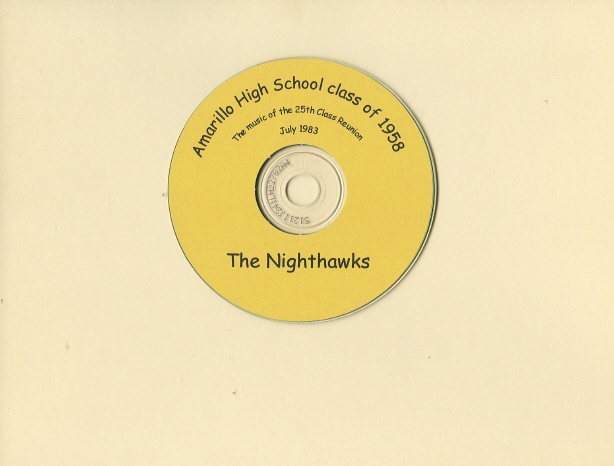 The band's final concert, its last waltz, seemed everything anyone could have wished it to be.  And because of it there was surely more to this class reunion than most, but all the clichés held true.  One was surprise that so many fine feelings could come back fresh after lying dormant so long.  I confess that late in the evening I began trying to mix from the feelings, the looks and sounds and scents, a potion to serve myself like Proust's madeleines and tea, but nothing came as in an epiphany, nothing whole and clear to memory.  As I made my way from the crowd to get some thoughts together I encountered, separately, two men whose connections with me had never been more than vague.  One, glowing with success, was tickled to tell me the biggest thing that ever happened to him in high school was showing up in the senior yearbook with the high school queen.  The other held his hand over his nametag, said you don't know my name but it doesn't matter at all, no one has remembered me and never will and furthermore will never see me again because I will soon die and it doesn't matter at all. 

As the Nighthawks brought their own special, almost private era to a close, before joining the group (did I tell you I was a roadie?) to begin the winding down that would surely take days, I sat on a shrubbed patio where the party, muffled and set away, became, in the poet's words, an eerie faint carouse.  I tried to make my thoughts appropriate.  And well, I thought of crinolines cracking, of stuffing crinoline petticoats in the narrow seats at the picture show and quieting them down before the movie started.  I tried to think of other things. 

And I simply came to an early spring afternoon when the windows were thrown open to let the stale steaminess of the long winter out and the voice of the teacher became the taut rope strumming the hollow flag pole in the breeze, and I – Eddie and Bob and Mike, too – drifted, soared, mind and spirit, out the window where waited all time and things.

                   Rave On                              When Sin Stops                        Susie-Q                            Breathless              

                  It's So Easy                      Roll Over Beethoven                    Party Doll                            Tear It Up         

              Johnny B. Goode                        Maybe Baby                 Baby Let's Play House        Keep A Knockin'                                                     That'll Be The Day              Good Rockin' Tonight                  Keep On Dancin'

Bob Venable

Lead Guitar & Vocals

Mike Hinton

Drums & Vocals

Eddie Reeves

Rhythm Guitar & Vocals

Marc Jaco

Guest Bassiest

Eddie Reeves thoughtfully converted the cassette of the 1983 Nighthawks' Reunion Muisc to CD for the enjoyment the Class of 1958  and other schoolmates who donated to the fund

for upcoming 50th class reunion

Warning:

Consumption of alcoholic beverages while listening to this cd may cause reversion to teenage mentality

Directions:   Play It Loudly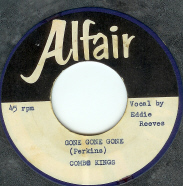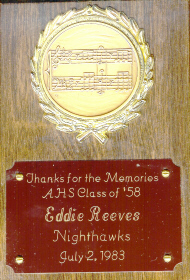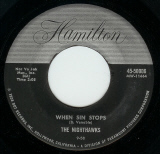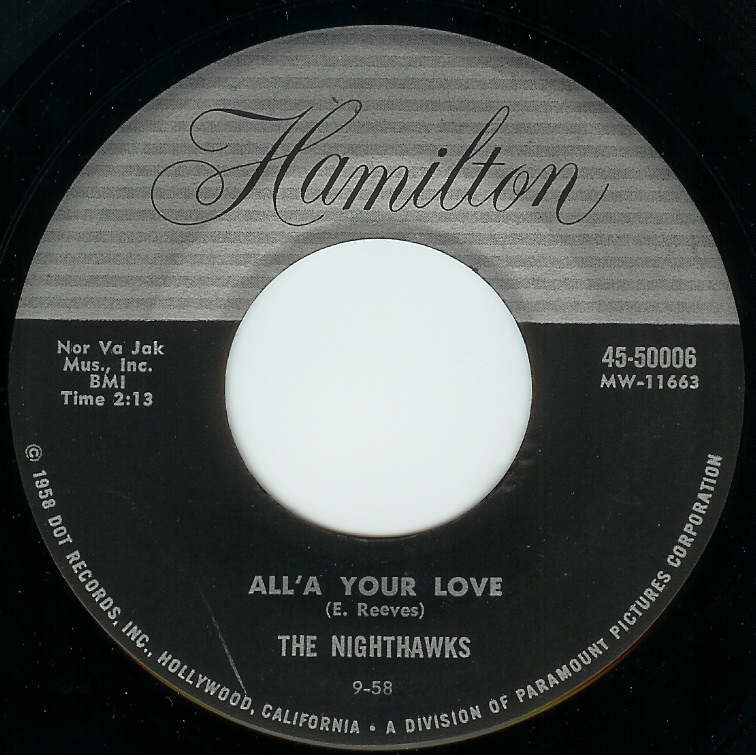 THE  HYSTERICAL SOCIETY BOYS